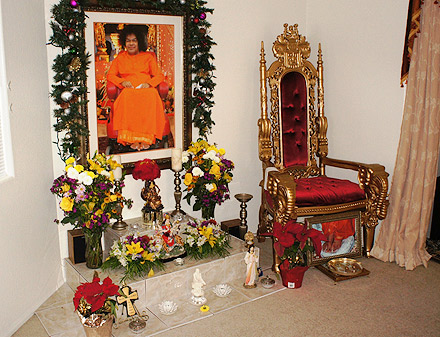 Welcome to the Sathya Sai Baba Center of South Bay – Torrance. We would like to encourage your interest and participation in a wide range of activities and service opportunities which are open to all. Weekly Devotional Programs, Service Activities and Spiritual education to children of ages 6-18. Programs aligning festivals such as Mahashivaratri, Rama Navami, Guru Poornima, Krishna Janmashtami, Ganesh Chaturthi, Bhagawan's Birthday, New Year's Eve.
---
---
Center Timings
Every Sunday
Satsang (Study Circle) – 10:00 a.m. to 11 a.m.
Sai Spiritual Education (SSE) Classes – 10:00 a.m. to 11 a.m.
Bhajans (Devotional Singing) – 11:00 a.m. to 12 p.m.
Contact Information
Email: anilaa@gmail.com
Phone: (310) 355-8357
Service
Every Sunday morning devotees make and distribute brown bag lunches (sandwiches and fruit) to the needy and homeless. Devotees assemble food packages in their homes and drop them off at a designated location close to the center for distribution. Volunteers then distribute the packages in the Long Beach area. Everyone is welcome to participate by making up lunches and/or assisting with the distribution of the food packages. Devotees also assemble usually four times in a year to do hot meal Seva for the poor on special events like Baba's birthday, Guru Purnima.
We also feel very privileged and blessed to join regional Service activities including medical camps, assisting the young adults with a "Beach day" for developmentally challenged children, and food and clothing drives.
Devotion
The center meets every Sunday morning for Satsang from 10 a.m. to 11:00 a.m. and Bhajans from 11:00 a.m. to 12:00 p.m. followed by Prayers, Meditation, and Aarti.
Sai Spiritual Education (SSE)
Classes are held on Sundays from 10 a.m. – 11 a.m. All children aged 4 – 18 are welcome to participate. The curriculum contains Swami's teachings including Education in Human Values and Unity in diversity; it is formulated to bring out the divinity latent in each of us. As a part of SSE, children are encouraged to participate in community volunteer activities and attend several during the year.
We hope that you will visit the Sathya Sai Center of South Bay, and, if you are a member of the local community, we hope that you will regularly come and join us as we share our love for Swami and strive to learn and follow His Divine Teachings.